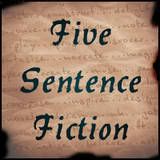 Five Sentence Fiction is about packing a powerful punch in a tiny fist. Each week they post a one word inspiration, then anyone wishing to participate can write a five sentence story based on the prompt word. This week's word is
: ALONE
I heard the ringing of the doorbell, then the unrelenting knocking at the door.
Yet I remained seated at the kitchen table, sipping on a cup of coffee while staring out the window at the unfinished greenhouse.
My husband started the project when we first moved into our new home.
Eight years later it's a lonely monument to a life of neglectfulness.
The knocking persisted but I didn't move, I told him not to forget his keys.
Copyright © 2013 Glynis Rankin