This week
Five Sentence Fiction
word is Strength.
It was from love that she made his favorite, his mother's special red sauce over noodles, but once they finished, she quickly removed the dishes to take them to the kitchen.
While she stood over the sink cleaning the messy plates and pots, she felt his strong arms come around her waist pulling her against his aroused body. He placed a soft kiss on her swollen cheek and whispered that he was sorry and that he loved her, even promised to never to hurt her again.
Although he'd said that many times before, she smiled, while pain shot through her face where he had punched her, giving her a black eye.
They made love that night for the last time, and while the paramedics took his lifeless body away in a body bag, no one question his rosy tint, as she thought about the special ingredient she had added to his mother's recipe.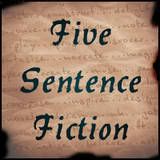 Thanks
.
..
.
join in
Copyright © 2013 Glynis Rankin