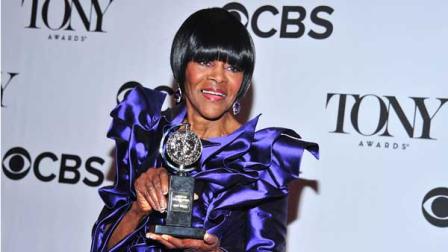 I love the Theatre. I know too highbrow. I'm a big fan of the Broadway!
What's not to like? There's wonderful live singing and dancing. Beautiful music, costumes, choreography and scenic design all with amazing actors who day after day deliver wonderful performances for audiences to enjoy. Unlike watching a movie, the performers on a stage often interact with their audience. When I saw a play for the first time, Dream Girls, my eyes lit up like a child on Christmas day. The production was amazing and I was forever changed by that experience.
I try to attend as many plays that I can though out the year, and watch the Tony awards every year. I'm always astonished at the spectacular production and watch in awe of the performers and applaud the winners, no matter who they are. But this year, one of my favorite actors won and I cheered so loud my family thought I had lost my mind.
Cicely Tyson, returned to Broadway this season for the first time in 30 years. She was in Horton Foote's "
The Trip to Bountiful."
A television show that was later a major motion picture staring Geraldine Page, who won the Academy Award for Best Actress.
The play is set in the 1940's and tells the story of Carrie Watts (Tyson) an elderly woman who wants to return home to the small town of Bountiful, where she grew up, but is hindered from leaving Houston, Texas, by her daughter-in-law and over protective
son
. But Watts is determined to outwit the children, and soon sets out to catch the train home. Only to find no trains go to Bountiful anymore. So she boards a bus to a town near her childhood home and befriends a girl traveling too. Watts is soon reminiscing to the girl about her younger years and the grieves for her lost relatives. Her children find her with the help of the local sheriff, but her yearning for home moves the sheriff to take her out to see the remains of Bountiful. It's not what Watts expects and she is moved to tears as she surveys her father's land and the remains of the family home. Her son turns up and drives her home, back to Houston.
Awards
I saw this emotionally charged play as a movie years ago, and enjoyed it immensely. But I would have loved to see Cicely Tyson up there on stage preforming this role with her background. She is one of the most celebrated actresses of the last 50 years, with at least that many years of making film and television history under her belt. Ms. Tyson became both the first African American to win an Emmy Award for Outstanding Lead Actress and the only actress to receive an unprecedented two Emmy Awards for the same role as Jane in "The Autobiography of Miss Jane Pittman" (1974). "The Autobiography of Miss Jane Pittman" and "Oldest Living Confederate Widow Tells All" She also has a star on the world famous Hollywood Boulevard Walk of Fame.
And the Tony Goes to?
Last night at The 67th Annual Tony Awards at Radio City Music Hall hosted again this year by Neil Patrick Harris ( another wonderful job). I watched as the 88 years-old Ciecly Tyson added to her collection of stellar hardware. After the evening's most emotional win-not one but two standing ovations- for the Best Performance by an Actress in Leading Role in a Play. " She told the audience that at her age, she had "this burning desire to do just one more - one more great role. I didn't want to be greedy. I just wanted one more."
Well you got one more. Congratulations Cicely Tyson!
Copyright © 2013 Glynis Rankin